Premium Video Editing Services
Get Started From Just $99
48 Hour* Video Delivery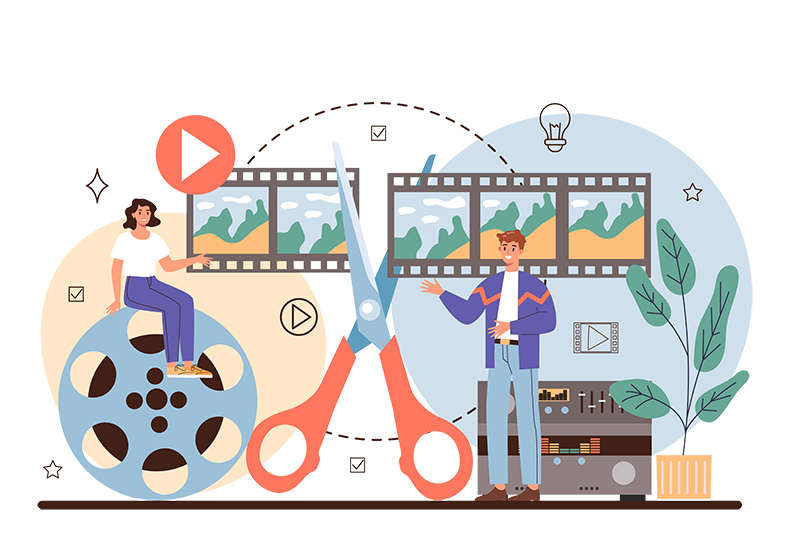 VIDEO EDITING PROCESS
We always believe in simple and hassle-free procedures for our clients. It's just like
saying 1-2-3 & start!
Types of Videos We Edit
Personal Videos
We do a thorough research of your industry and audience and determine the design strategy for your video. This step is crucial in ensuring you get a video your target audience will love and share!
Business Videos
Once target audience is finalized along with any specific instructions from your end, we conceptualize the video from scratch and determine the theme, style and message of the video.
Special Events
Our expert video designers begin working on creating an stunning video for you. This is an important creative process where we pay meticulous attention to every task including content and design aesthetics.
Product Videos
By far our most popular editing service, many businesses send us clips to create an outstanding video that best showcases their product to their target audience.
Wedding Celebrations
Wedding videos have be perfect at all costs! We make sure that each and every special moment is captured and all the attendees are visible and looking good!
Corporate Events
These events are all about branding and show. Elegance, extravagance and perfection are hallmarks of a great corporate event video. We will transform your corporate clips into an amazing event!
Product Review Videos
Very popular among our YouTube clients, we edit products review clips, using our video editing software, and create an elegant video that can positively impact sales.
Client Testimonials
Client testimonials are a great way to boost sales. Send us your testimonial clips and we will optimize them to promote your brand.
Sales Pitch Video
In high demand, a carefully edited, captivating sales pitch video can transform a company fortunes. Our clients see significant improvements every quarter.
Ready to start your video editing?